JAMES ARTHUR ALFORD
AAFA #0384
1922 PA – 1991 PA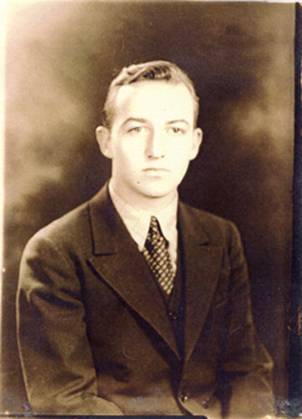 James Arthur Alford's high school graduation picture
James & Wilda on their wedding day, 27 April 1946
Source unknown
Berks Co., PA—_____ December 1991
Included in AAFA ACTION, March 1992
            James A. Alford, 69, widower of Betty (Kenderdine) Seyfert-Alford, of Birdsboro [Berks Co.] RD 3, died Friday afternoon at his home after a lengthy illness.
            Born in the Germantown section of Philadelphia, he was a son of the late James L. and Freda C. (Holzmuller) Alford.
            Mr. Alford was a reactor operator and foreman for the former Firestone Tire and Rubber Co. plant in Pottstown and the Occidental Chemical Co. plant in Pottstown for a total of 38 years, until his retirement in 1985.
            He was a U.S. Army Air Corps veteran of World War II, serving as a mechanic for the Flying Tigers bomber group.
            Mr. Alford was a member of St. Paul's United Church of Christ, Pottstown; the German Club of Pottstown; VFW Post 411 and American Legion Post 626, both of Birdsboro; the Sportsmen's Club of Birdsboro; and Gibraltar Fire Co.
            Surviving are two sons, James R. Alford, at home, and David R. Alford of Pottstown; two daughters, Carol, wife of Kenneth Rhoads of Pottstown and Eileen, wife of Ronald Boone of Virginia Beach, Va.; one brother, Walter Alford of Fayettesville; two sisters Doris, wife of Sebastian Vetri of Telford, and Thelma, wife of Robert Harman of Mesa, Ariz.; seven grandchildren; and three great-grandchildren.
            Mr. Alford is also survived by a friend, Wilda M. (Rogers) Alford-Harmon, with whom he resided.
            A funeral will be 10 a.m. Tuesday from Warker-Troutman Funeral Home, 726 High St., Pottstown.
            The Rev. Dr. Roland C. Turnbach, Pastor of St. Paul's United Church of Christ, will officiate.
            Burial will be in Highland Memorial Park.
            A viewing will be from 7 to 8:30 p.m. Monday at the funeral home.
            Memorial contributions may be made to the American Cancer Society, in care of Robert Moses, Continental Bank and Trust Co., 205 High St., Pottstown, 19464.
Photo from Highland Memorial Park, Pottstown, Montgomery Co., PA—www.findagrave.com
Permission granted by the photographer, James Shanta
AAFA NOTES: SSDI records show that James A. Alford (SS# issued in PA) was born 5 Jan 1922 and died 6 Dec 1991, last residence not listed.
            We included the obituaries of his first wife, Wilda Mae "Billie" Rogers Alford Harmon, in Pennsylvania Obituaries; and his sister Thelma Frieda Alford Harman, AAFA #0397, in Arizona Obituaries.
            His sister Doris Alford Vetri, AAFA #0303, served as AAFA Treasurer for many years.
            James married Wilda Mae Rogers on 27 Apr 1946, and she was the mother of his children. Doris, James' younger sister, reports that for a time when she was a teenager, James and his family lived next door to his parents, and Doris frequently babysat for James's children. James and Wilda eventually divorced and remarried. James remarried Betty (last name unknown), and Wilda married Lonnie Harmon. Both James and Wilda outlived their second spouses. Wilda moved back to Pennsylvania and back in with James when he developed cancer and took care of him until he died.
            For more information about this family, see AAFA's published genealogy, Known Descendants of John Alford, b. 1801 NC.
            His lineage: James Arthur 1922 PA1, James Luther 1898 TX2, George Washington 1855 AL3, John Madison 1826 GA4, John 1801 NC5.